Inclusive Cinema is pleased to announced a series of trans-focused film events is taking place across the UK in the coming months as part of Inclusive Cinema's T.L.C (aka Tender Loving Care for Trans-Led/Trans-Loved Cinema) project. From Orkney to London, cinemas, festivals and independent exhibitors will present film screenings, Q&As and panels on diverse topics related to trans visibility in cinema, thanks to support from the BFI Film Audience Network (BFI FAN) awarding National Lottery funding. These events will also be recorded live and made into podcasts, which will be released online later this year. 

T.L.C, supported by delivery partners, writer and activist So Mayer and independent production company Aunt Nell, aims to help address the historic imbalance of trans representation on screen.
ANYTHING COULD HAPPEN HERE |  30 July, Heart of Hawick Cinema, Hawick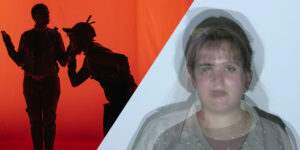 Milo Clenshaw, Alchemy Film & Arts 
Alchemy Film & Arts presents a one-off, double-bill screening of The Making of Pinocchio (2021), Glasgow-based artists and lovers Rosana Cade and Ivor MacAskill's autobiographical exploration of Ivor's gender transition, preceded by No Words (2021), a short film created as part of Alchemy's Film Town programme by Borders-based young people to articulate the pluralities of queer existence.
Both films utilise an experimental approach to convey deeply personal messages around identity and society's perceptions of queer bodies. Audiences are invited to attend a live podcast recording after the screening, at which the filmmakers will be present to discuss the joys, challenges and complexities of trans cinema.
Event info + tickets here. 
More T.L.C event dates will be announced soon!
What is T.L.C.?
2021-22 has seen the release of trans-led and trans-made indie gems from around the world such as Isabel Sandoval's award-winning Lingua Franca, Cássio Pereira dos Santos's Valentina, and Max Currie's Rūrangi. At the same time, trans-inclusive TV shows such as Pose, Sex Education, Euphoria and We Are Who We Are – not to mention Drag Race and Queer Eye – compel large audiences who are passionate about trans and queer storytelling and performance. How can venues, festivals and programmers bring those passionate audiences to the cinema for unique film experiences – and ensure that brilliant films are reaching the audiences they deserve? What kinds of marketing, educational and contextual materials might venues, festivals and programmers use, and where can they find them? Which critics, publications, socials and podcasts can provide support, speakers and strong content? What sort of in-cinema or social events, online promotions or content, can support compelling films and create returning audiences?
In addition, for these films to be embraced, we need to think about making spaces feel welcoming to audiences and speakers, and safe for staff. How can venues and festivals ensure that trans audience members and staff feel safe, supported and welcome at events, in-venue and in online conversations? What kind of practical and immediate changes could be put in place to give everyone the best experience – and what sort of training or resources might best support that for venues, festivals and organisations of all scales? How can you ensure the whole team is educated and feels confident in intersectional trans inclusion, without depending on a token trans person to educate you? What can programmers and organisers do to ensure that trans speakers and other freelancers feel included and cared for? How can you create spaces to hear from trans audience members, staff and freelancers who might feel excluded from your venue and/or events, or have had negative experiences in the past, and put plans in place to address that exclusion?
We know that all of these questions and more are already being asked and answered by venues, festivals, event organisers, curators, programmers, distributors, filmmakers and audiences. We know that best practice is already happening across the nations and regions, at all scales of event – and we want you to shout about your amazing work, great ideas and brilliant teams, so we can keep growing through exchange and listening, creating a grassroots resource that everyone can learn with. That's T.L.C.